Domestic hot water circulators have two key functions:
They ensure convenient supply of domestic hot water without waiting time during extraction

To avoid stagnation and as a result safeguard drinking water hygiene
We have a variety of hot water solutions available as featured below and are happy to design a system to meet your needs. For more information on hygienic hot water systems please see our FAQ page.
Thermodynamic Solar Panels
Thermodynamic solar collectors provide sanitary hot water up to 50ºC throughout the day and night. They work all year round with rain, wind and in absence of sun and provide an energy saving of up to 80% and there is no need of a backup system as long as the external temperature is above 0ºC. Maintenance for the equipment is almost non -existent providing maximum safety and security.
The domestic systems are comprised of cylinders from 250L up to 450L and are compatible with any existing water heating systems. The operating principle is based on the laws of thermodynamics, which uses the physical properties of a refrigerant gas and  is capable of transporting the heat captured by the panels to the water to be heated.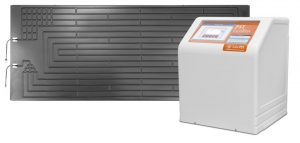 Advantages
Economical:  Lowers your monthly utility bills
Sustainable: Takes care of the planet by reducing air pollution
Panel: Manufactured to strict quality control standards and made from anodized aluminium 30 microns which ensures a long lifespan of more than 25 years and a resistance to corrosion
Save more: Minimal maintenance
Safe, non toxic, environmentally friendly fluid
No need to change your water cylinder: Retro fits to existing cylinder – Adapted for vented and unvented water heater storage

Inverter air | water heat pump with output-dependent control, designed as a compact mono block appliance for outdoor installation. Can be used for heating and DHW in new builds and modernisation projects due to the high flow temperatures.
Main Features
Air | water heat pump installed outdoors for heating
Inverter technology: Variable speed compressor for perfectly matched heating output
Enhanced vapour injection/enhanced saturated vapour injection for high flow temperature even at low outside temperatures
Low operating noise thanks to infinitely adjustable fan speed and encapsulated refrigerant circuit
High efficiency all year round for low operating costs thanks to optimally matched components
Suitable for mono mode DHW heating for low running costs
Can be integrated into a home network and controlled via smartphone
All in One Hot Water Heat Pump
The Hot Water Heat Pump is one of the most economical systems to get domestic sanitary hot water
Using renewable energy from the air, the unit is highly efficient with low maintenance costs
It can be up to 3 to 4 times more efficient than the electric heaters or boilers conventional gas

 .
Efficiency and Energy Saving
.
Capacity: 250 liter tank of 304 stainless steel 1.9mm of thickness
COP 3,9: 500w power consumed by generating a heat output of 2000w
75% energy savings: Extraordinary energy efficiency and quick amortization.
High heating power: The water reaches 55 ° C with minimum energy consumption
Anti legionella system: Eliminates bacterial proliferation by an water heating cycle
Energy from the air: Using ambient air to exchange heat and heat the water avoiding the emission of CO2
Advantages
Waste heat recovery: Units can be installed in every room which has a large number of waste heat meaning higher energy efficiency even with very low outside temperatures during the winter
Hot water and de-humidification: When it produces hot water it lowers the temperature and dehumidifies the room as well
Storage room cooling: The unit can be placed in the storage rooms as the low temperature keeps the food fresh.
Hot water and fresh air ventilation: When generating hot water it also cools and provides fresh air
Compatible with different energy sources: Compatible with solar panels, external heat pumps external and boilers
Ecological and Economic Heating: More efficient and economical alternative to fossil fuel boilers and heating systems. By using renewable source it consumes much less energy without direct CO2
Compact Design: It's extremely compact structure and elegant design are suitable for indoor installation.
Multiple Functions: The unit can work as just a heat pump but also as a fresh air blower, a dehumidifier. or an energy recovery device