Nutherm Galway have expertise in design, install, commission and servicing of heat pumps dating back to 2005. We are partners with one of Germany's leading heat pump manufacturers, Stiebel Eltron since then.
Today, due to their outstanding performance under Irish weather conditions the Stiebel Eltron Air to Water heat pump is our leading selling product. Stiebel offer a range of predesigned packs to match every situation.
Which Stiebel Eltron pack do I need?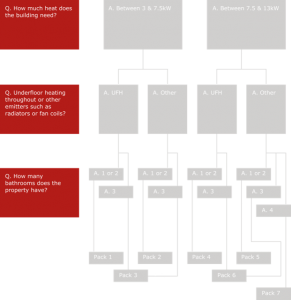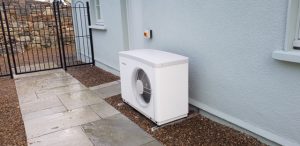 WPL Outdoor Unit – Silent in Operation and Corrosion Resistant
What are heat pumps and what are the benefits?
Heat pumps provide an alternative to traditional ways of heating and hot water generation.
Heat sources for heat pumps
There are many different kinds of heat pumps, but they all operate on the same basic principle of heat transfer. Heat transfer means that rather than burning fuel to create heat, a device moves environmental heat from one place to another. In a heat pump, this heat is transferred from a heat source (e.g. the ground, air or water) to a heat destination (e.g. your home).
Heat pumps extract the sun's heat from air, water or the ground and, as they work primarily by moving heat, not creating it through burning fuels, they are highly efficient, and will significantly reduce your carbon emissions. Traditional systems require about one unit of electricity or gas to generate one unit of heat. Typically you only need one unit of electricity to deliver three or four units of heat with a heat pump. Heat pumps work effectively all year round.
The heat pump is a thermodynamic heating system. It can be used to convert environmental energy into heat for your home. The heat, which is drawn from water, the ground, outdoor air or extract air, first passes through an evaporator from whence it is fed, via a condenser, into the heating system.
Approximately five parts environmental energy and one part electrical energy are provided as heating energy. Electrical energy is required to "pump" the environmental energy, which is at a low level of -20 °C to +35 °C (air), to a temperature level suitable for heating (DHW)
Why choose Stiebel Eltron heat pumps?
High quality heat pumps with expert support
With Stiebel Eltron you can have the comfort of knowing that you are dealing with a stable and well established business with a long track record of manufacturing quality green products and designing optimum solutions to your heating, hot water and electrical generation needs. We have installed numerous ground source, air source and water source heat pumps and have the expertise to help ensure the right solution is chosen for every project.
The benefits of Stiebel Eltron heat pumps
High quality German engineering from a company who have more than thirty years of heat pump manufacturing experience.
High efficiency of all models ensures best return on investment.
Designed to provide very high flow temperatures down to an external temperature of -20ºC degrees. This means it will keep on working even in the very coldest of weather when poor quality heat pumps can struggle
7 year extended warranty available
Free of charge site surveys to ensure the most appropriate choice of technologies and provide a detailed specification
ErP Energy Label for heat pumps
The top of the ErP label displays the name of the manufacturer (I) and the model designation (II) of the product. The rating system for heating heat pumps categorises them into nine efficiency classes. A++ is the highest energy efficiency class. G denotes appliances with extremely poor values.
STIEBEL ELTRON products are almost exclusively in the top group. All STIEBEL ELTRON heating heat pumps are already in the top rating category, i.e. classes A to A++.